Canon CL-98 Color Original Ink Cartridge
Canon CL-98 Color Ink Cartridge
To get vibrant, long-lasting prints of the highest quality, use Canon original toner/inks in your laserjet printers or all-in-ones. Canon toner/inks have been developed hand-in-hand with our sophisticated print heads to prevent smudging and clogging. Using original toner/inks gives you great prints and keeps your device in good shape.

Bring home the all new Canon colour ink cartridgeto experience colourful and seamless printing. This cartridge is best suitedfor minor household usage and business usage.
The premium color quality will make your printed paper look attractive and perfect.
The ink will not spread after you print the paper, unlike other ink cartridges.
The Canon color ink cartridges best suited for minor and small scale usage. The result is flawless and colorful printing. The cartridge can print up to 300 pages from the ink stock it has been manufactured with.
Compatible with Printer Model : Canon Pixma E500 / E510 / E600 / E610 Pixma Printer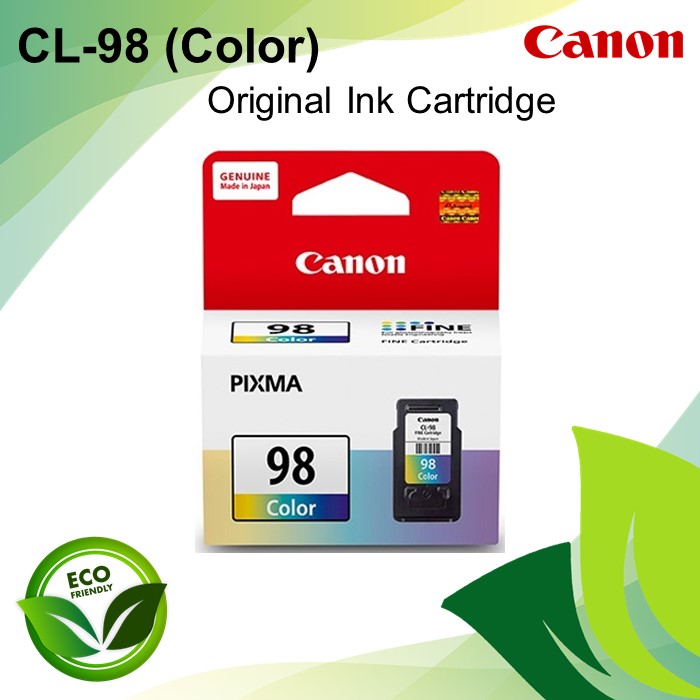 WHAT'S INCLUDED
What's in the box
1 x Canon CL-98 Color Original Ink Cartridge